If you are looking for a moving company that operates on the territory of Muswell Hill and the surrounding areas, you will definitely find it very hard to find a better moving contractor than us.
We are a very well known name here. We have been around for some years now and today we are not only one of the oldest, but also the most reliable professional removal Muswell Hill covering contractor. With dedication and a lot of hard work our movers have come to know every little trick of the trade. They are willing to employ their experience and skills in your project – you can only benefit from that.
When it comes to any kind of removal Muswell Hill project you approach us with, we will:
Carefully tailor an individual removal plan for the job, including a free quote, so that it is one hundred percent certain that the best results are going to be achieved.
Do the move at a time that would be most comfortable for you – our very flexible schedule enables us to do that without any problems.
Carry out your relocation with efficiency and care, ensuring that all your items are safe during the transportation process.
Finish the job on time and up to the most satisfactory results. No stress, strain or hassle on your part will be involved in the process.
The Muswell Hill relocation experts are here for you
Our removal services in Muswell Hill N10 are perfect for not only full property relocations of a big scale but also for smaller projects such as student removals. We at Get Removals are ready to help you make the transition smooth and stress-free for you and your roommates if you have any. The best part is that we will do it on a price that will be nothing short of very attractive. If it sounds like a deal, just give us a call.
Muswell Hill has reputation for a lot of things, and we cannot overlook the fact that the area is home to some of the finest schools in Greater London. To just drop a few names, located here are the Alexandra Park School and the Fortismere School, both secondary, as well as the primary Eden School. It is worth it to mention Blanche Nevile School, which specialises in serving deaf and hearing-impaired children.
Best removal advice and customer support in Muswell Hill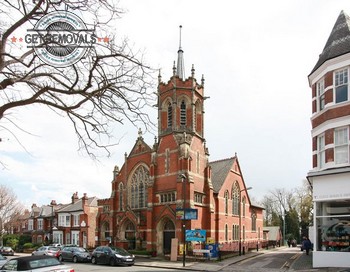 We are particularly proud of our 24/7 customer support that is made possible thanks to our call center co-ordination. Our friendly and knowledgeable specialists will be more than happy to answer any questions you might have and pick up those removal services from our list that will best fit your potential needs. They are also the people to turn to if you want to know how much the completion of your project is going to cost. Ask for a non-binding removal quote from them and you will get it on the spot. The price will be individually estimated in accordance to the specs of the job. Just give us a call today for booking and a free quote – this is definitely the smart thing to do.
Muswell Hill is probably one of the best known places in the north London Borough of Haringey. In addition to being a very comfortable residential suburb, located neither too close nor too far from the City, Muswell Hill has been referenced to numerous times in literature, films and music. Pierre La Poste wrote "A Year in Muswell Hill". The film Tamara Drewe describes the Muswell Hill Bookshop and the rock band The Kinks even has a LP titled Muswell Hillbillies. The most notable landmarks in Muswell Hill are definitely Alexandra Palace and the Alexandra Park. The former was a popular entertainment venue in the Late Victorian Era. Recently (in 2004 to be precise) it became operational once again. The Park (already declared a Local Nature Reserve) surrounds the palace and is definitely one of the most impressive open green spaces in these parts of London.