Best office and domestic removal services available in the Farringdon area
Farringdon is the place where you can find some of the most comprehensive, efficient and affordable professional moving services in the whole London – that is thanks to our company.
We have established ourselves as a household name for the local community several years ago, when we have started as just a small locally owned and operating removals Farringdon company. Today we have expanded our business considerably.
We have a very large team of movers, drivers and helpers. All of them are rigorously trained, extensively experienced and know the industry inside out. What is more, they are licensed to carry out their profession anywhere in the UK. This, in addition to the full insurance liability we offer, comes to prove that we are indeed the perfect moving experts for you.
Get in touch with us if you want:
To get any job, no matter what its scale or complexity is, done quickly, hassle-free and up to the most efficient results.
Get your project carried out with the help of specialized equipment and tools, clean vans and methods that have proven to work in any situation.
Have a custom price tailored specifically for you. One that is competitive and pretty affordable according to any standard. We also offer mid-week discounts.
When it comes to removals Farringdon residents and business owners know they can trust us. You can trust us too. We never fail to do precisely what we have been hired for.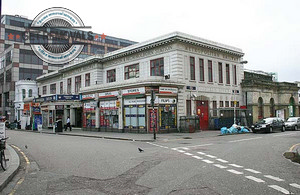 Call us today on the phone numbers provided here, or write us in the easy to use online contact form we have set up on this website for booking and requesting a free no obligation quote. You can talk to one of our representatives and have a lengthy discussion of your needs with an experienced member of our team and an individual plan tailored for your project, so that it is absolutely certain that you are going to get your needs covered completely.
If you are looking for an as central a place in London to move to as possible, Farringdon is the area you need. It is a historical district in the City of London, divided in two main parts – Farringdon Within and Farringdon Without. The former used to be the part of Farringdon that fell inside the City Walls. The later remained outside. Those boundaries are no longer of relevance, but the names remain. Farringdon is traditionally a place where one can find high end stores and boutiques, as well as headquarters of numerous firms and companies. The greatest landmark here is definitely the The Royal Hospital of St Bartholomew (or, how it is most often referred to, The Bart), which is known to be the oldest hospital in Europe (founded in 1123). Farringdon is definitely one of the most beautiful and distinctively English districts in the present day capital. Everything, from the architecture to the rhythm of life here comes to prove that – just come and see for yourself.