Get a free quote from Church End's best removal company
Finding a suitable removal company for your preferences and budget requirements is not too much of a problem, however finding a mover that treats your valuable belongings with the due care and attention they deserve is a whole different story.
Many times, damage or misplacement of items during handling and transit puts a real damper on customers' day, especially when they paid good money to have their belongings transported safely. At Removals Church End we know how important it is for people to have their valuables delivered from A to B safely and intact. In our many years of industry experience, avoiding damage and misplacement of items has always been a top priority.
When it comes to safety measures and ensuring damage-free handling and transit of items in our care, we actually tend to get carried away at times. We go to some lengths to ensure every single item is secured and ready for the trip. Our specialised packing service plays a key role in this process. Our mover teams will invest all the time and effort into packing properly all of your belongings. If however, customers wish to do their own packing, we will be happy to supply the necessary packing materials.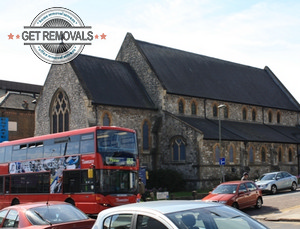 Safety of your belongings is also ensured through adequate and efficient transportation. Our entire fleet of short and long wheelbase vehicles are fitted with specialised equipment designed for lifting and securing of heavy loads.
Timely completion is vital to any successful relocation, that's a fact. In order to keep everything on track and avoid costly delays, we coordinate all stages of the removal with our call centre. Furthermore, our transport vehicles are fitted with GPS navigation which saves more time from traveling. We work with experienced drivers and professionally qualified movers. We hold full liability insurance.
Our customers will receive: free, no obligation quotes, customised pricing, round the clock support, midweek discounts on all removal services, nationwide coverage on all deliveries, pickups made throughout London and surrounding areas.
Removals Church End offers customers choice from a large number of versatile and inexpensive moving services including partial and full scale domestic removals, comprehensive office and business removals, specialised waste collection solutions, furniture delivery, and many more.
Since there will be no packing and stacking of boxes for you as our movers will handle that expertly, you have an opportunity to learn a thing or two about Church End, only if you want of course. Church End is one of two London areas bearing the same name. Church End in Brent was originally a piece of land owned by The Church. Gradually, a small settlement grew around St Mary's Church – the first place of worship in the district. By the eighteenth century, a village with a number of inns had formed. As many other suburbs of the capital, Church End also expanded and populated with the arrival of the railways during the eighteen seventies. From the start of the twentieth century up to the nineteen sixties, Church end and its economy were somewhat in decline and the area was poor, working class suburb. Since the nineteen sixties onwards extensive regeneration and redevelopment has put Church End back on track.