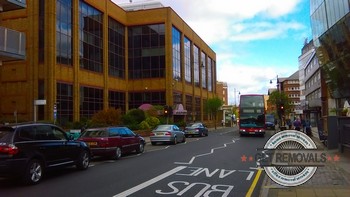 If you don't want to spend your personal time moving or you don't have the necessary resources to conduct your relocation on your own, have no worries and give our team a call any day of the week We are a professional removal company that has all the necessary knowledge and assets to help you do a hassle-free move.
However, before we present ourselves to you, we want to commence by thanking the time to learn more about our company. Your interest means a lot to us because we understand in full that without you – the customers, we wouldn't be the successful moving company that we are today. We also want you to know that we are currently known to be the removal company with the friendliest client approach. So if you are looking to hire a removal company that won't treat you as clients but as friends, know that we are the ideal moving company for you.
Removals – nationwide and in Wimbledon
We want you to know that we are fully licensed movers. This means that we have the necessary permits to conduct removals not only in the area of Wimbledon but the entire United Kingdom. Or put in other words – we have permission to execute:
Inner area relocations
Inner-city relocations
Inter-city relocations
In addition we have full insurance coverage of all potential (and unlikely) damage during a move. This means that our clients will be fully compensated for any lost or damaged items. However please note that to date we have never lost or had an accident of any kind during the execution of a removal in Wimbledon for which we are hired.
At the moment we are highly sought for our loading services because of the fact that we have top notch lifting tools that allow us to load and unload any cargo quicker than the other companies that operate in the area. However, the best thing about our loading services isn't their speed but the fact that we provide them at highly reasonable prices, just like we do with all our options. So if you are looking for a company that provides cost effective removals in Wimbledon, look no more and give us a call today.
Top quality packing supplies
We don't only provide the finest packing services in Wimbledon but we also sale the best packing materials in the city. All the supplies from the moving boxes to the wooden crates to the hardtop containers are of the finest quality because we emphasise on safety. So, if you are on the search for high quality and secure packing materials, look no more and give us a call. Also don't worry if you cannot come and pick them up because we will gladly deliver them to you at any address within the district. We have posted our contact details on our website.
Our company is seated in the suburban district of Wimbledon. The district lies in the southwestern parts of London and is part of the London Borough of Merton. The district of Wimbledon is amongst the most renowned areas of London due to the fact that the area hosts the annual Wimbledon Tennis Championships which one of the four Gram Slam Tennis Tournaments in professional tennis. The district is also home to several well-known landmarks such as the New Wimbledon Theater, the Polka Theater, Wimbledon Greyhound Stadium, St. Mary's Church and many, many more. Wimbledon is mostly inhabited by the middle and upper-middle class of London. The district connected to the remainder of the city by several tube and railway stations of which the busiest station is Wimbledon Station.
The New Wimbledon Theatre is one of the area's most famous and visited landmarks. It was opened in 1910 and was designed by Roy Young and Cecil Massey. The venue stages touring productions and has a main hall with a capacity of 1670 seats which are spread on three levels. The secondary hall is much smaller with a capacity of 80 people.