When it comes to property removals, either big or small, most people would be glad to delegate this tough and stressful chore to qualified professionals, as long as the price is right, and there is no risk of damage to items.
At our Surrey Quays removal company we will do just that. Our well organised removal teams made up of specially trained movers and experienced drivers will work in perfect sync in order to have everything packed, secured and labelled, ready for transportation without any delays or other issues. Working with qualified professionals allows for safe handling and no damage transit of customer belongings from A to B.
Safe packing and item removals at low prices in Surrey Quays
Our removal teams will also take care of packing. Packing is essential to protect items from accidental damage so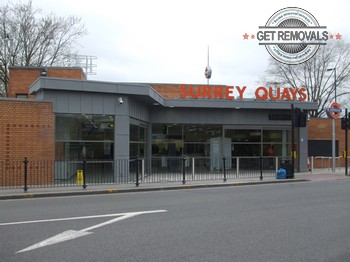 don't skip on it. If you wish to self-pack, which is also an option, let us know and we will deliver the necessary packing materials to you.
We will be able to deal with all types of domestic removals, business and office removals, piano and furniture removals, junk and rubbish removals and many more.
Transportation of your belongings will take place in clean, well-maintained removal vehicles, specially equipped for lifting, securing and transporting of heavy or odd items. All vans have GPS navigation.
Best rates for hiring local movers
When it comes to service costs, Removals Surrey Quays's customers are in for a great surprise. We keep our service prices within reasonable limits without compromise on quality or efficiency of our work. Furthermore we provide free, no obligation service quotes, flexible pricing and handy midweek discounts on all removal services.
There are also other important benefits provided by our specialised range of moving services, some of them are:
Adequate removal advisory throughout the service;
Helpful and reliable customer support, twenty four hours a day, seven days a week;
Coordination of all removals through our call centre;
Countrywide coverage on all deliveries, collections done throughout London;
We have full liability insurance, licensing to operate nationwide and maintain good short notice availability in the SE16 postal area. Customers who have entrusted their relocation to us, will not only enjoy a swift, hassle-free and affordable removal, but also the opportunity to be out and about doing what they wish. A quick tour of Surrey Quays and a local history lesson will be a great outing for you while we do the heavy lifting. Surrey Quays takes its name from the former borderline between Kent and Surrey (non-existent since nineteen o one). The borders of the two towns met right where Surrey Quays is today. However, before the nineteen seventies, the area wasn't residential at all, but occupied by Surrey Commercial Docks. During the nineteen eighties and nineties, city management underwent massive redevelopment projects and created large amounts of residential estates. Some of the well-known and most important docks however (or at least parts of them) were preserved during the construction projects. These were mainly Canada Dock, now Canada Water, also Norway Dock, as well as the Greenland Dock and the South Dock. In fact South Dock was refurbished as London's largest marina.