If you are changing the place you live, or you are relocating your office, you know how strenuous and stressful this task can be. By getting our company's expert moving technicians to be at your side throughout the process, you ensure your comfort and peace of mind.
While we are working by your side, you will not have to worry about a single thing.
We are going to plan every step of your move for you.
We will do all the packing, heavy lifting and relocation of your personal items, furniture and equipment.
We will present you with an affordable and highly competitive price that will definitely fit your budget perfectly. Money is not a problem when you have us working for us.
As for removals in Harringay – we have seen them all. We carry out domestic and commercial projects with the same degree of professionalism and care. We will take up your moving project, no matter how big or how small it is and carry it out up to the most satisfactory results. It would be no exaggeration to say that our skilful and licensed drivers, removals Harringay experts and helpers always exceed at their job, regardless of its specifications.
Removals seven days a week anywhere in Harringay
You can count on us around the clock, at any day of the week. First and foremost, our technicians are used to moving outside standard working hours – at night, in the weekends and even on official holidays. It is all up to your comfort and when you need to get the job done. What is more, our customer support is available 24/7 for questions concerning the methods we employ and the services we offer. You can contact them for booking and a request for a free no obligation quote at any time.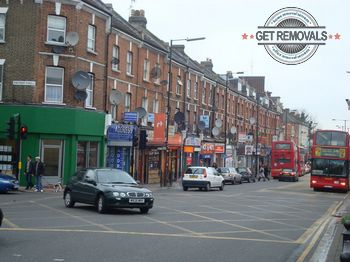 Our licensed movers in Haringey are going to make sure you receive the best possible service. We will supply all the necessary packing supplies, moving tools as well as a clean well maintained van with GPS navigation and moving blankets, not to mention the manpower and skills. You can count on us to arrange for your moving day to go as smoothly as possible. You can get in touch at any time both over the phone and via email.
Our area of operation is the administrative and historical heart of the borough of Haringay, namely the town that has given its name to the area. 17 000 people live in its three postal districts – N4, N8 and N15  – as of today. With nearly a quarter of its territory being covered by public parks, gardens and commons, Haringay is one of the greenest towns in Greater London today. According to the last estimates, 22.5 % of the territory of Harringay is occupied by parks and open green spaces that provide wonderful opportunities for sports, leisure and recreation. The town's center is a busy commercial area with many shops, stores and restaurants. Old Victorian and new architecture blend perfectly here, giving Harringay its unique outlook. If there is a place in London that deserves the title of best metropolitan center, Harringay should definitely be considered for it.