The first choice for removal company of residents in Elmers End, BR3
Do you need to get your home moved anytime in the near future? Do you want to have the job carried out in a quick and absolutely hassle-free manner, without any complications and stress whatsoever? Residents and homeowners in Elmers End and the surrounding areas know that they can trust us to provide a world class quality of professional moving services.
We have the reputation of being the most reliable and responsible removals Elmers End contractor today chiefly because of several reasons:
Our set of services is very extensive covering all your potential needs.
We work in accordance to very a very strict ethic and we always manage to live up to the expectations of our clients.
We maintain a truly

state of the art fleet of clean vans

, specialized equipment and tools etc.
Our drivers and movers operating in Elmers End are very skilful and experienced, having worked in the field for years now. They are fully licensed and insured. Your comfort is guaranteed when they are by your side.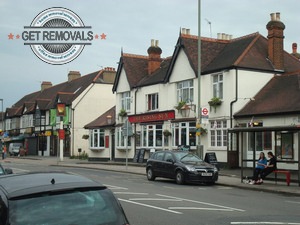 Thanks to our professionally tailored methods, clean GPS navigated vans and the skills of our licensed movers in Elmers End, we would be able to provide you with the best price moving services in these parts of London come on. Get a free quote today and see what we are talking about. In addition to no obligation quotes, our around the clock customer support specialist would happily provide you with vital information concerning our services, and help you tailor the individual plan for your project.
In addition, you are going to get a free quote in advance, so that you can consider your budget properly. With us, transparency and client-comfort come first.
Call us today on the phone numbers provided here in order to book the time and day that would be most comfortable for you. We are at your service at any time of the day, any day of the week.
We operate in the South East London residential area of Elmers End in the borough of Bromley. Elmers End is in the BR3 postcode district and is the preferred place of residents for a variety of citizens – from elderly to families with children and young professionals who make use of the comfortable transport connections with the business districts in the City. The truth is that there is a little for everyone in Elmers End.
Like many places in modern day Greater London, Elmers End is a district that developed after the arrival of the railway in the area. Today it may lack major landmarks and places of interest, but it is nonetheless comfortable and stress-free place preferred by established professionals and their families. Elmers End has been voted on a number of occasions among the best places to live in London by several prestigious publications.
We would be glad to help you turn this dream of yours into reality.